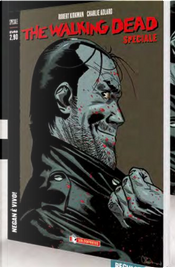 The Walking Dead Speciale
Negan è vivo!
by Robert KirkmanIllustrated or Penciled by Cliff Rathburn, Charlie Adlard
1Review0Quotations0Notes
Description
Negan è senza alcun dubbio uno dei villain più amati del fumetto seriale e, più in generale, della narrazione contemporanea. Robert Kirkman è stato capace di renderlo allo stesso tempo odioso e insopportabile, ma anche irresistibile e, a modo suo, adorabile. Quindi, di fatto, Negan è uno dei personaggi più amati del fumetto e della tv. È un personaggio così riuscito e così amato, anche dai suo creatori, che Kirkman non ha avuto il coraggio di eliminarlo. Lo ha fatto sparire, mandato in esilio, ma non se l'è sentita di fare altro. Ora, con "Negan è vivo!", scopriremo come se la passa Negan dopo essere stato costretto all'esilio, e cioè se vive da solo, se ha contatti con qualcuno e si sta riorganizzando, raccogliendo un frammento di storia che non può mancare nel gigantesco affresco di The Walking Dead.