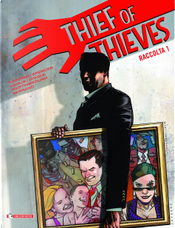 Thief of thieves. Raccolta. Vol. 1
by Andy Diggle, Nick Spencer, Robert Kirkman
Translated by
Matteo Casali
,
Illustrated or Penciled by
Shawn Martinbrough
,
James Asmus
0Reviews0Quotations0Notes
Description
Redmond è un ladro, ma non un ladro qualsiasi: è il più grande ladro al mondo. Non c'è nulla che Redmond non sia in grado di rubare. Non c'è furto che non sia in grado di portare a termine. Ma, prima di essere un super ladro, Redmond è Conrad Paulson, un uomo in crisi con se stesso e con le persone che ama. Perché l'unica cosa che le sue incredibili capacità non gli permettono di ottenere è la vita che aveva prima, cioè l'amore di una ex moglie di cui è ancora innamorato e il tempo che non ha trascorso con un figlio che ora sa a malapena chi è suo padre. E, per questo, Conrad ha deciso di mollare tutto e chiudere per sempre con Redmond. Ma, per Conrad, il furto non è solo un mestiere: è un'ossessione. E, quando si è il più grande ladro del mondo, il passato – assieme all'FBI e al mondo della criminalità organizzata – non è qualcosa di cui ci si libera facilmente. "Thief of Thieves - Raccolta 1" è il primo volume (di due) di un originale storia ideata da Robert Kirkman che ha portato nel mondo del fumetto il metodo cine-televisivo della writers' room (un gruppo di scrittori che sviluppano insieme l'idea di una storia e che si alternano poi a sceneggiarla). Nello stesso formato della hit di vendita The Walking Dead Raccolta, 400 pagine illustrate dall'elegante bianco e nero di Shawn Martinbrough per un crime drama a fumetti che reinventa il genere caper/heist (alla Ocean's Eleven).