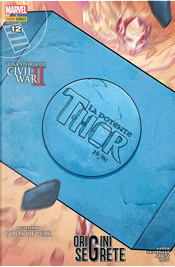 Thor n. 217
Origini segrete
by Dan Abnett, Jason AaronTranslated by Giuseppe Guidi, Illustrated or Penciled by Emilio Laiso, Russell Dauterman, Frazer Irving, Artist or Inker Frazer Irving, Emilio Laiso, Russell Dauterman, Colorist Guru eFX, Frazer Irving, Matthew Wilson, Jacket design or artwork by Russell Dauterman, Calligrapher Barbara Stavel
0Reviews0Quotations0Notes
Description
Contiene: The Mighty Thor (2015) #12, Civil War II: Gods of War #3.

Le incredibili e inedite origini di Mjolnir, il martello di Thor!
• Thor: le guerre che saranno!
• Civil War II: amici e nemici, dei contro eroi!
• Ospiti d'onore: Spider-Man, Capitan Marvel e Steve Rogers, il Capitan America originale!