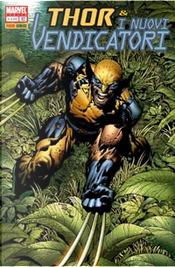 Thor n. 82 by Akira Yoshida, Brian Michael Bendis, Dan Berman, Ed Brubaker, Michael Avon Oeming
Thor n. 82
Thor & i Nuovi Vendicatori
by Akira Yoshida, Brian Michael Bendis, Dan Berman, Ed Brubaker, Michael Avon Oeming
Illustrated or Penciled by
David Finch
,
Andrea Di Vito
,
Greg Tocchini
,
Michael Lark
,
Steve Epting
,
Artist or Inker
Jay Leisten
,
Michael Lark
,
Steve Epting
,
Danny Miki
,
Colorist
Frank D'Armata
,
Laura Villari
,
Jacket design or artwork by
Frank D'Armata
,
Danny Miki
,
David Finch
0Reviews0Quotations0Notes
Description
Contiene: New Avengers Vol.1 #5, Captain America Vol.5 #5, Thor Son of Asgard Vol.1 #6, Stormbreaker: The Saga of Beta Ray Bill Vol.1 #1

Nella Zona Selvaggia i Nuovi Vendicatori vengono accolti da ospiti niente affatto amichevoli, ma non sono i soli, perchè Wolverine si trova nei loro stessi guai! Finale per le avventure del giovane Thor e dei suoi amici, mentre esordisce "Stormbreaker", la serie che ci condurrà nello spazio alla ricerca dell'eredità di Asgard! Per chiudere, Capitan America ritorna nei luoghi di una sua vecchia missione sul fronte russo al fianco degli Invasori, il tutto nel corso delle indagini sul recente omicidio del Teschio Rosso! Brian M. Bendis/Dave Finch; Ed Brubaker/Steve Epting; M. Avon Oeming/Andrea DiVito e Akira Yoshida/Greg Tocchini sono gli autori schierati per la realizzazione di questo grande numero!