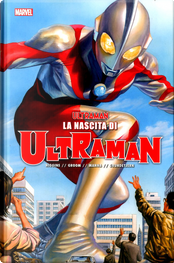 Ultraman vol. 1
La nascita di Ultraman
by Kyle Higgins, Mat GroomTranslated by Fabio Gamberini, Illustrated or Penciled by Ed McGuinness, Francesco Manna, Gurihiru, Michael Cho, Compiled by Studio Ram, Adapted by Mattia Dal Corno, Colorist Espen Grundetjern
0Reviews0Quotations0Notes
Description
Contiene:
The Rise of Ultraman (2021) #1/5

Ultraman, la famosissima icona pop giapponese, protagonista di una miniserie prodotta dalla Marvel!
• I Kaiju, mostri terrificanti e spietati, camminano sulla Terra, e per fermarli è stata creata la United Science Patrol!
• La vita di Shin Hayata, che sogna di entrare a far parte dell'agenzia segreta, cambia radicalmente quando si trova davanti uno strano bozzolo di energia…
• Il punto di partenza ideale per chi volesse conoscere questo leggendario eroe giapponese!