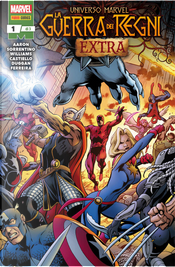 Universo Marvel: La guerra dei regni Extra vol. 1
by Chip Zdarsky, Jason Aaron, Josh Trujillo, Ram V.Translated by Luigi Mutti, Illustrated or Penciled by Ricardo López Ortiz, Andrea Sorrentino, Cafu, Joe Quiñones, Artist or Inker Joe Rivera, Joe Quiñones, Colorist Felipe Sobreiro, Brian Reber, Rico Renzi, Matthew Wilson
0Reviews0Quotations0Notes
Description
Contiene: War of the Realms: War Scrolls #1, War of the Realms: Punisher #1-3, Giant-Man #1.
• Il destino del mondo nelle mani di Daredevil, il Dio Senza Paura!
• Jason Aaron e Andrea Sorrentino reinventano Daredevil... donandogli poteri divini!
• I Giant-Men di ieri e di oggi in una missione suicida contro i Giganti del Ghiaccio!
• Una saga completa con il Punitore in una New York invasa da troll e mostri asgardiani!