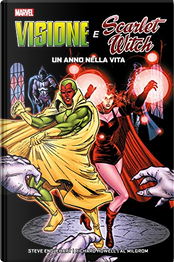 Visione e Scarlet Witch
Un anno nella vita
by Steve EnglehartTranslated by Andrea Plazzi, Riccardo Vitaliano, Illustrated or Penciled by Al Milgrom, Richard Howell
0Reviews0Quotations0Notes
Description
Contiene: The Vision and the Scarlet Witch (1985) #1/12, West Coast Avengers (1985) #2

• Un inedito che aspettavate da anni: la maxi-serie dei due protagonisti di WandaVision!
• Torniamo al 1985 e ad atmosfere molto simili a quelle del serial Disney+!
• La nascita di Billy e Tommy, i gemelli del sintezoide e della strega mutante!
• Ospiti speciali gli Avengers della Costa Ovest, Quicksilver, Sub-Mariner e Magneto!