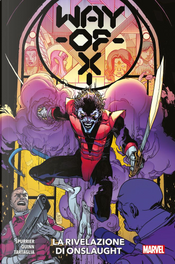 Way of X
La rivelazione di Onslaught
by Si SpurrierTranslated by Fabio Gamberini, Curated by Luca Scatasta, Illustrated or Penciled by Bob Quinn, Composer Astarte Design, Colorist Java Tartaglia
0Reviews0Quotations0Notes
Description
Contiene:
Way of X (2021) #1/5, X-Men: The Onslaught Revelation (2021) #1

Quando la morte viene sconfitta, come avviene a Krakoa, cosa rimane della religione e dell'istinto di conservazione? L'omicidio è ancora un delitto?
• Nightcrawler è in piena crisi teologica e filosofica, e a tirarlo fuori…
• …ci penserà il ritorno della più temibile delle minacce: Onslaught!
• E se la storia è di Si Spurrier, può Legione essere lontano?