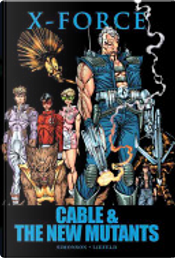 X-Force: Cable & the New Mutants
by Dwight Zimmermann, Louise Simonson
Illustrated or Penciled by
Rob Liefeld
,
Bob Hall
,
Artist or Inker
Nel Yomtov
,
Hilary Barta
,
Colorist
Mike Rockwitz
0Reviews0Quotations0Notes
Description
For years, the New Mutants have struggled to hone their powers and teamwork in defense of Charles Xavier's dream of peaceful coexistence between humans and mutants. Now, with the arrival of Cable--a mysterious metal-armed, big-gunned, glowing-eyed man from the future--things will never be the same...not for the New Mutants, and not for any mutants! Featuring the threats of Stryfe, Nitro, the Vulture, the Skrulls and Sabretooth! Guest-starring Sunfire and Wolverine!

COLLECTING: New Mutants #86-94, New Mutants Annual #5.