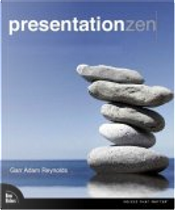 Presentation Zen by Garr Reynolds
Presentation Zen
Simple Ideas on Presentation Design and Delivery
42Reviews0Quotations0Notes
Description
Presentation Zen will help presenters see the process in a way that is different, simpler, more visual, more natural, more effective, and ultimately far more meaningful.

Presentations are generally poor because their creators have learned bad habits and lack awareness and knowledge about what makes for a great presentation (and what does not). This book aims to help people break out of the rut of making typical PowerPoint presentations. This book provides an equal dose of inspiration and education. The content focuses on helping readers become (1) more aware, (2) more knowledgeable, and (3) more inspired. Presentation Zen is a provocative mix of illumination, education, and guidance. What may seem like common sense regarding presentations is not common practice.

Presentation Zen is an approach to presentations that is appropriate for our age, an age in which design thinking, storytelling and so-called right-brain thinking are crucial. Those who are talented communicators and skilled in design and storytelling are increasingly in demand.

Balancing the principles of design, the tenets of Zen simplicity, multimedia and cognitive learning theory, along with practical advice from the field, the book is a visual and instructional tour d'force.