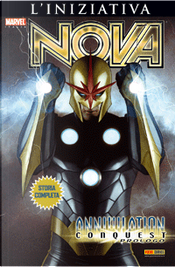 Annihilation Conquest n. 0 - Nova by Andy Lanning, Christos N. Gage, Dan Abnett, Keith Giffen, Stuart Moore
Annihilation Conquest n. 0 - Nova
Marvel Crossover n. 48
by Andy Lanning, Christos N. Gage, Dan Abnett, Keith Giffen, Stuart Moore
Translated by
Massimiliano Brighel
,
Giuseppe Guidi
,
Illustrated or Penciled by
Scott Kolins
,
Giuseppe Camuncoli
,
Sean Chen
,
Andrea Di Vito
,
Mike McKone
,
Artist or Inker
Stefano Landini
,
Mike McKone
,
Scott Hanna
,
Scott Kolins
,
Andrea Di Vito
,
Colorist
Paul Mounts
,
Laura Villari
,
Guru eFX
,
June Chung
,
Jacket design or artwork by
Adi Granov
0Reviews0Quotations0Notes
Description
Contiene: Annihilation: Heralds of Galactus Vol.1 #1-2, Nova Vol.4 #1-3

Si è mai visto un albo Marvel legato a due eventi contemporaneamente? Ebbene, c'è sempre una prima volta! Questo ricco volume disegnato da Sean Chen, Mike McKone, Scott Kolins e dai nostri Andrea Di Vito & Giuseppe Camuncoli si apre infatti con il ritorno sulla Terra di Nova dopo gli eventi cosmici di Annihilation, ma Richard Rider deve fare subito i conti con l'Atto di Registrazione e, di conseguenza, con l'Iniziativa dei 50 Stati promossa da Iron Man! Poco dopo, nello spazio, assistiamo alle avventure post-Annihilation degli Araldi di Galactus: Silver Surfer, Firelord, Terrax e Stardust! Testi di Keith Giffen, Abnett & Lanning, Christos Gage & Stuart Moore per un albo che raccoglie la miniserie Heralds of Galactus e i primi quattro numeri del mensile Nova!