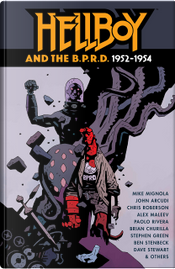 Hellboy and the B.P.R.D. by John Arcudi, Mike Mignola
Hellboy and the B.P.R.D.
1952-1954
Illustrated or Penciled by
Brian Churilla
,
Ben Stenbeck
0Reviews0Quotations0Notes
Description
Hellboy's career in the B.P.R.D. kicks off in this new hardcover edition collecting his earliest missions!

From his very first official case in 1952 tracking down a mad scientist in Brazil, Hellboy moved straight on to punching monsters across the globe. Revisit those very first adventures with Hellboy and the team that made him the agent he is with this new collection, featuring cases from 1952, 1953, and 1954!

Featuring the work of Mike Mignola, John Arcudi, Chris Roberson, Ben Stenbeck, Stephen Green, Dave Stewart, and many other powerhouse creators, and including a bonus sketchbook section, this new hardcover is a gorgeous addition to any Hellboy library.

Collects Hellboy and the B.P.R.D.: 1952, 1953, and 1954 TPBs.