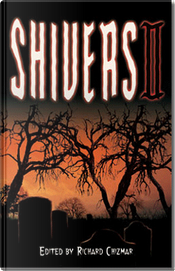 Shivers II
by A. Braunbeck, Al Sarrantonio, Bentley Little, Bev Vincent, Brian Freeman, Brian Keene, David G. Barnett, David Niall Wilson, Douglas Clegg, Edward Lee, Elizabeth E. Monteleone, F. Paul Wilson, Garrett Peck, Geoff Cooper, Graham Masterton, J.F. Gonzalez, Kealan Patrick Burke, Kelly Laymon, Patricia Lee Macomber, Ray Garton, Rick Hautala, Robert Morrish, Thomas F. Monteleone, Thomas Tessier, Tom Piccirilli
Curated by
Richard Chizmar
,
Illustrated or Penciled by
Gail Cross
0Reviews0Quotations0Notes
Description
Cemetery Dance Publications is proud to announce Shivers II, the sequel to last year's award nominated and bestselling anthology! Shivers II is a brand new anthology of terror, containing almost two dozen short stories from today's hottest writers, including Bentley Little, Douglas Clegg, Edward Lee, Ray Garton, Graham Masterton, Tom Piccirilli, Thomas Tessier, F. Paul Wilson, Rick Hautala, and many others! Featuring original dark fiction with a handful of rare reprints, Shivers II II is available only as a beautiful perfect-bound trade paperback.