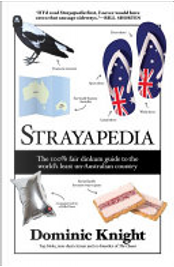 Strayapedia
The 100% Fair Dinkum Guide to the World's Least Un-Australian Country
0Reviews0Quotations0Notes
Description
Patriotically basted in the goon trough of Australian values, this book is as fundamentally Strayan as bowling your final over underarm, not asking awkward questions about what's in your meat pie, and naming a swimming pool after Harold Holt.

Conveniently omitting all areas not relating to Australia, Strayapedia provides definitive alternative facts about Tony Abbott, AC/DC, Canberra, Kylie Minogue, the Hills hoist, Bob Hawke, Hey Hey It's Saturday, Ned Kelly, koalas, Akubras and Shane Warne - among many other certified dinky-di topics.

If you want to pass a citizenship test, or win a trivia night hosted by Cory Bernardi, Strayapedia is as valuable as a tiny apartment in Sydney.